"It's crucial to find the right advocates and deliver success stories"
German energy corporation E.ON is getting ready for the future by implementing a corporate-wide agile transformation. Lean Magazine got in touch with  two of the standard-bearers: Meggie Revesjö and David White.
A changing society, rapid technical innovation and environmental concerns – the energy market is going through a far-reaching restructuring. For the major electric utility service providers, such as the German giant E.ON, this means both opportunities and challenges. To be able to respond more quickly to the needs, demands and constraints of the market, the company is now defining its own flavor of Agile Business. Not surprisingly, the entire process started in the IT department where management initiated a local transformation project back in 2010-2011.
Different backgrounds
This initiative also meant the start of the professional collaboration between Meggie Revesjö and David White. Before their career paths converged at E.ON, the two agile coaches had quite different professional experiences. Meggie had been around working with IT since 1995 as a consultant. For her, the agile journey started in the early 2000s as she became a project manager in agile projects.
"That showed very quickly the benefits of executing projects using Scrum," she recalls. "But at the same time, it also demonstrated all the pitfalls when you operate in 'water-scrum-fall' environments."
Dave, on the other hand, describes himself as an old hand in IT with more than 30 years of experience. He got involved in RAD methods back in the 1990s when he was a developer, and then with Agile early in the 2000s.  "I've worked for start-ups as well as large corporations and spent time as a self-employed consultant," he says. "To be honest I can't imagine going back to the old, traditional culture, methods and ways of running a business."
Help from the agile community
When the agile transformation started at E.ON in 2011, the aim of the company's IT Management was to improve the whole project process. The agile advocates in the company successfully pitched their ideas on how to run things. They managed to convert a senior manager into a champion for their mindset and methods, and so things were able to get up to speed.
"In the beginning we started running projects using Scrum, developed essential training in-house, and created an agile community of practitioners," says Meggie Revesjö. "When we reached enough volume of agile activities, business started to be involved. Last year the agile transformation initiative became official. Now we've got the 'good enough' agile awareness in our company as well as a new strategy and focus for E.ON. In addition, another senior manager is willing to sponsor our ideas. From now on, we can target our efforts in the new way-of-working."
The main source of knowledge and new insights for Meggie Revesjö and David White has been the wider agile community, in which they are both deeply engaged. In addition, they keep in touch with their old colleagues and network at conferences, where they also often give presentations.
"I suppose we absorb ideas from all over," says David White. "I wouldn't say that we're inspired by anyone in particular – just by the changing world and by each other. Meggie and I are very different people, so we make a good team!"
The Agile change team of E.ON has chosen not to base their transformation enterprise on the larger frameworks SAFe, DAD and LeSS. At first, they looked into these, but soon decided that one size does not fit all. Instead, they have been building a framework of their own, based on the best practices they are picking up from other E.ON regions, other companies and their agile community.
"The British statistician George Box once said said 'all models are wrong, but some are useful'," says David White. "We feel the same way about proprietary frameworks. The whole point of agility is that you experiment, inspect and adapt to create something that works for you. It therefore seems incongruous to then implement someone else's prescriptive framework."
The foundations of the new Way-of-Working at E.ON
Cultural change.
Management change to servant leadership.
Moving towards an Agile organization.
Defining and implementing the right and necessary skillset.
Providing best practices for covering the whole timeline – from idea to product/service.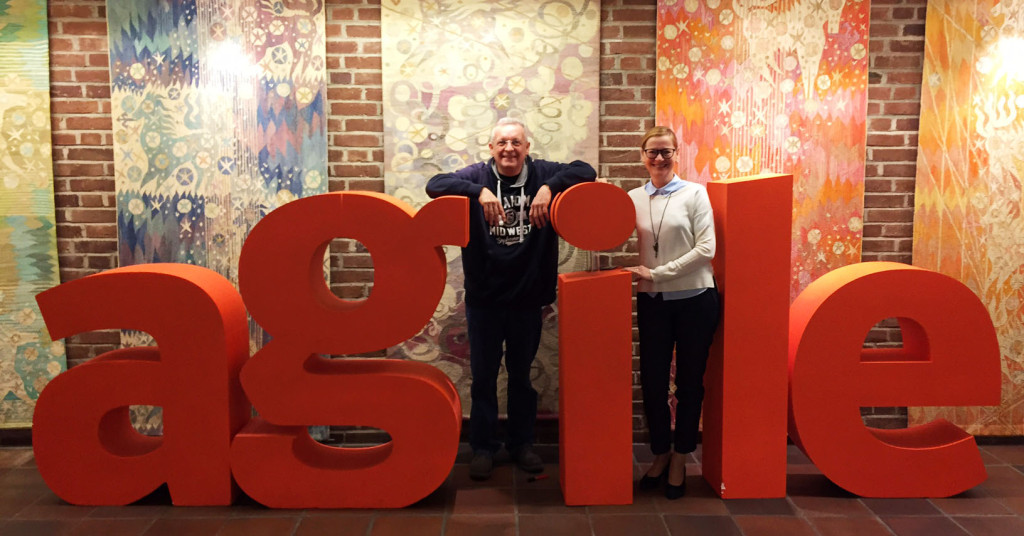 David White on getting management support
"We did run a number of Scrum projects under the radar before we were really supposed to (as such, it was kind of a pirate movement!). This created a lot of grassroots pressure for a real revolution in how we work. I think the lesson is that you need to go and persuade senior management to get on board and create top-down initiative for change. You've got to do a lot of cold selling and persuasion, not just in IT but in the business as well. We've had really fantastic support from senior management once we got them on board with our revolution and we're really grateful for that; I don't think we'd have made progress without. The point here is that agile IT and agile business make no sense separately – it has to be a holistic end-to-end delivery model with the culture and organization to support it. In the new world, IT is no longer a support function, IT is the business in many ways."
Developing their own way-of-working
Instead, the Agile change team at E.ON has rather taken ideas from all the different frameworks, looked at what others are doing and then – most importantly – started by establishing values and principles. The ideas, methods and experience needed is not intellectual property locked up in a vault – instead, it is free for the taking on the internet in thousands of blogs.
"Our protocol has been to start small, experiment, develop our own way-of-working, let it evolve and don't try to make one size fit all," says David White. "Different business areas and regions will evolve different ways of working around the common theme of agile business. Proprietary frameworks contain some good ideas, but they're often implemented as totalitarian and prescriptive processes – and of course have become a vehicle for consultants to sell voodoo."
The main goal is now to turn E.ON into an agile company. The agile change team aim to give the best support to all regions within the corporation. Thirteen local agile coaches from their group of practitioners have been allocated as multipliers – training, coaching and bringing others on board.
"During 2017-2018 we want to have three things in place," Meggie Revesjö says. "Firstly, the right skills in all regions. Secondly, servant leadership for self-organizing teams focused on delivering valuable products to our customers. And finally, the right organization enabling our business to have the proper capacity to respond to market changes and a sensitivity to change. As we have different Agile maturity, needs and priorities in the regions, it is up to local agile coaches and local business to decide the highest value and urgency of the above for them, – and also the speed of implementing it in the regions. Our responsibility is to provide a starting framework, to coach and support when and where it is needed, and finally to share good practice and knowledge."
Sowing the seeds for change
The industrial history of E.ON goes back almost a hundred years. The old, reliable business model was to generate power from fossil fuels and sell commodity. This model has now become obsolete with changing energy markets and growing environmental concerns.
"E.ON has now refocused on renewable energy and digital energy solutions," says David White. "That's an emerging marketplace and one that we need to shape in order to stay in business. I think the only constant thing in the future will be change, so I don't see this as a one-off transformation programme – instead, it's about sowing the seeds for constant evolution and occasional revolution. I don't see the world standing still any time soon. I think the vast majority of the company will be touched by this."
Looking back at the work so far, the change team is especially satisfied with building an agile community within the corporation, spreading awareness, as well as bringing the existing brainpower and engagement into the light. But still there are challenges to deal with, for example E.ON's organizational structure, middle management and culture.
"We had a lot of early success with the Wholesale Gas business in Munich back in 2011," recalls David White. "That proved to be a lighthouse that inspired many more since. We've also transformed the way that we deliver change in the Energy Solutions business in Sweden. Now we see other parts of the company in other countries wanting to do the same. We've had a lot of great Agile projects that have brought our people closer together, broken down walls and delivered some great products. I guess the challenges are the same as all large companies trying to make this change. Corporate culture, processes, organization structure, the investment and controlling model are all built for the past industrial age. Changing those things isn't easy!"
Involving the organization
As E.ON is a multinational industrial group, containing organizations that have their own company history, and so corporate culture is not homogenous. This of course creates special challenges.
"I would say that in some countries or business areas, the hierarchal structure and processes are very strong," says Meggie Revesjö. "In these cases, it's crucial to find the right advocates and deliver success stories which prove it works and brings benefits. Culturally, we're dealing with the remains of a demand and control world. Our solution is to involve as many as possible in agile movement, both from IT and business, and to show good examples and good alternatives to support the change to self-organization and empowerment. The lesson here is to think big but to start small – then you can break the resistance!"
Every day, Meggie Revesjö and David White see the well-known challenges which the cross-cultural communicator Richard Lewis described in his famous book "When Cultures Collide".
"Sure, they're challenges but that's what makes the job fun," says David White. "We work with so many different people in so many different places. They share some ideas and some problems but many are unique. It's incredibly rewarding to listen to those people, to inspire them, to share the difficulties and to celebrate the successes with them. I've worked in a lot of different industries and energy sector people really are some of the nicest that I've met. I think that all human beings operate on the same hardware platform. They're just people – but as times change sometimes we all need a firmware upgrade."
What Meggie and David have learned from E.ON's agile transformation
Do not try to copy solutions from other companies
Be inspired but find your own way and use your own people. Find senior management sponsors, involve the business and start to drive an agile mindset from there.
Start small, think big, learn fast
Be open-minded and courageous – the best solutions follow a sort of 'guided evolution' approach, so don't be afraid to just start with some Scrum teams. The obstacles that they encounter are the organizational and cultural impediments that you have to knock down, one by one.
People have to want the change and they have to own it
The agile transformation should not be yet another management-imposed initiative. As a result, it is obvious that management needs to actively sponsor you. Change is much more sustainable if you build in-house expertise rather than throwing money at consultants; your own staff must have a passion for making the company a better place.
Handpick your advisors
The big consulting firms largely lack the mindset, culture and expertise in this field. You pretty much have to do it yourself along with the small specialist firms who really understand what Agile is about.
Beware of so called Cargo Cult Agile
Don't expect that Agile will happen by itself, just because you set up a framework. This stuff is 95% culture and 5% practice.
Read the article in Lean Magazine on issuu.com