In 2014, Softhouse opened its first overseas office in Sarajevo, starting quite a buzz in Bosnia and Herzegovina. Emir Mehić and Ervin Fetić are two of the developers who work closely with their Swedish colleagues.
– We are very happy that we've been able to create such great opportunities for young educated Bosnians. It has made it possible for them to stay in the country where their heart is, and inspire other young people to do their best, becoming taxpayers and helping build the Bosnian society," says Himzo Musić, local CEO who spends his professional time between his hometown Malmö and Sarajevo, capital of the country where he was born.
Nine employees
The foundation of the Softhouse Sarajevo office is a story of hope, perseverance and personal commitment. It starts during the civil war in the nineties when Bosnian refugees are seeking a safe haven in distant Sweden. It then continues with the building of a bridge of social contacts, professional interests and business ideas between Scandinavia and the Balkans. Eventually, it results in the opening of the first Softhouse office outside Sweden.
Today the Softhouse office in Sarajevo has nine employees. Early next year Vernisa Rejhan will become the new site manager. Just like Himzo Musić, she was born in Bosnia and Herzegovina and came to Sweden as a refugee during the nineties.
During the fall of 2016 the main part of the team in Sarajevo is working for a Swedish customer who is developing a tablet used for conference room booking. The hardware of the tablet is made in Taiwan, but operating system, drivers, firmware updates and user interface are all created at the Sarajevo office. In addition, the Bosnian team is also developing a backend server that retrieves booking information from different booking systems such as Google, Exchange and IBM Domino and serves this information to the tablets.
"We want to have a unified Softhouse experience, both for our customers and employees, regardless of where the office is situated," says Himzo Musić. "We are creating a flat and agile organisation where we value teamwork and offer possibilities for our colleagues to learn and develop into true professionals and experts so that we can deliver high quality value to our customers."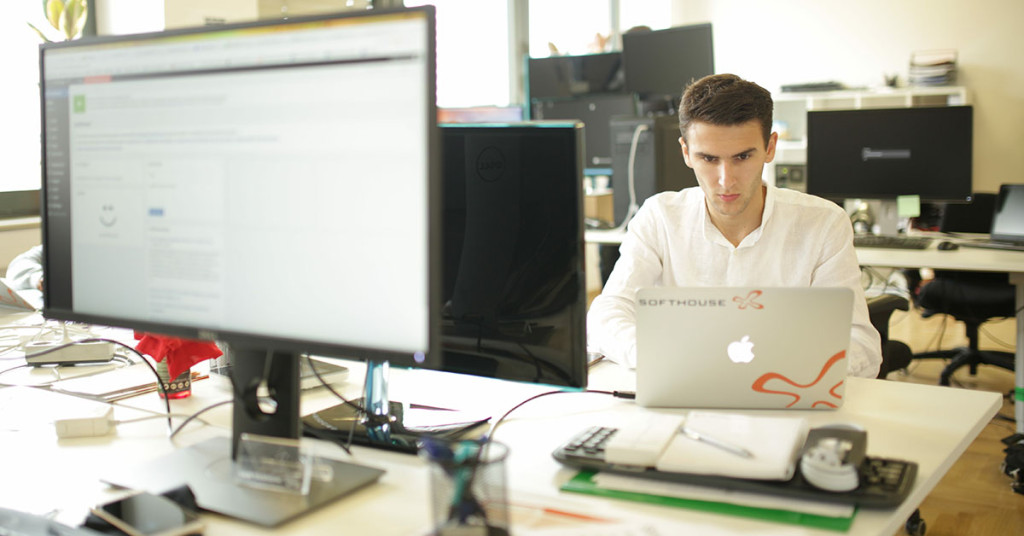 Involved in many projects
Today, the capital of Bosnia and Herzegovina is a modern, bustling city where young people and entrepreneurs run their own projects, following the principle "If you want something to happen, you have to take the initiative yourself!" Foreign business people looking for partnerships quickly note the high professional level of university-educated people. During the Tito years, Yugoslavia built an excellent educational system and through all the adversities, the high standard hasn't withered.
– Traditionally, the education systems of Eastern Europe have always been strong in the STEM fields (Science, Technology, Engineering, Mathematics)," says Himzo Musić. "Actually, a lot is going on here which we can learn from, and be inspired by. One example is a major IoT initiative, called Sarajevo Smart City."
Softhouse has made quite a buzz in Bosnia Herzegovina. By supporting different projects, it has become something of a household name in the Bosnian software industry. With money from the Swedish government aid agency SIDA, trainers from Softhouse have given Scrum Master courses in several cities; in total, more than a hundred new Agile coaches have been certified. A Lean for Managers training course was sponsored by the American aid organisation USAID. Through the organisation Bosnia Agile, Softhouse is also involved in the local Agile movement, for example by sponsoring conferences and participating in hackathons. Another project has been to support a local robot design course for school children in Tuzla, north of Sarajevo.
"Our intention is to reach for the moon," says Himzo Musić. "In five years' time we hope to have 35–50 employees and Softhouse will hopefully be known as the place where everybody in the software and Agile areas wants to work in in Bosnia and Herzegovina. Our office is the coolest and most creative, we are taking care of our staff and they feel motivated to do their best and they inspire each other to have fun at work every day."
Emir Mehić: "Developers have a universal language — code —which brings us a lot closer."
Emir Mehić is a Sarajevo boy from birth, and did his university studies at Sarajevo School of Science and Technology. "Here, I truly learned how to manage myself in the IT world," he says. "During my university studies I focused on computer science right from the start, since I knew exactly what I wanted to do. I consider myself a very creative person – but in a tech sense. Accordingly, software development has always attracted me."
Acting on a global scale
One day, Emir found an interesting job ad for an intriguing Swedish company and soon became a member of the team. His speciality has mostly been Frontend development, but lately he has been working more and more with Angular 2. "In the scope of our current project, I have been working a lot with Exchange Web Services and — a bit more interesting perhaps — with HTML5 Canvas and a rendering framework called Pixi.js," says Emir. "Realising that you can create almost anything with these tools is really great – and also fun!"Emir is, as he puts it, "pretty darn proud to be part of Softhouse". Something that he finds very enticing is the notion of being available to compete and act on a global scale and to work with people from different countries around the world."We Bosnians may tend to be more loud and stubborn than our Swedish colleagues, but in the end we are all developers, and developers have a universal language — code —which brings us a lot closer."
Ervin Fetić: "We are all capable, responsible and eager to do our job well!"
Ervin Fetić grew up in Cazin in the eastern part of the country, close to the border of Croatia. After graduating from the Department of Information Technology at the University of Bihać, just twenty kilometers away from his home, he became one of the first employees at the Sarajevo office."I found the Softhouse job ad at an official webpage for career opportunities. For me as a country boy, it was a real challenge to switch my lifestyle and move from the rivers and mountains of my home region to the city life of Sarajevo – there is a huge difference!"
Merging the Bosnian and the Swedish
Ervin is very proud of what he has achieved so far, including two certificates from Oracle: one in database design and programming, and one in Java programming. He sees himself as a very social person, "trying almost every day to make people happy". This also involves his professional role. "My life is programming so I'm trying each day to improve myself in different fields and help the colleagues around me. In this way, I am also helping the company."Ervin doesn't see a huge difference of culture between Bosnian and Swedish developers – in his eyes, they have much more in common than things that separate them."We are all capable, responsible and eager to do our job well. You can say that we in Sarajevo have merged the best things from Swedish and Bosnian culture, something that is working very well."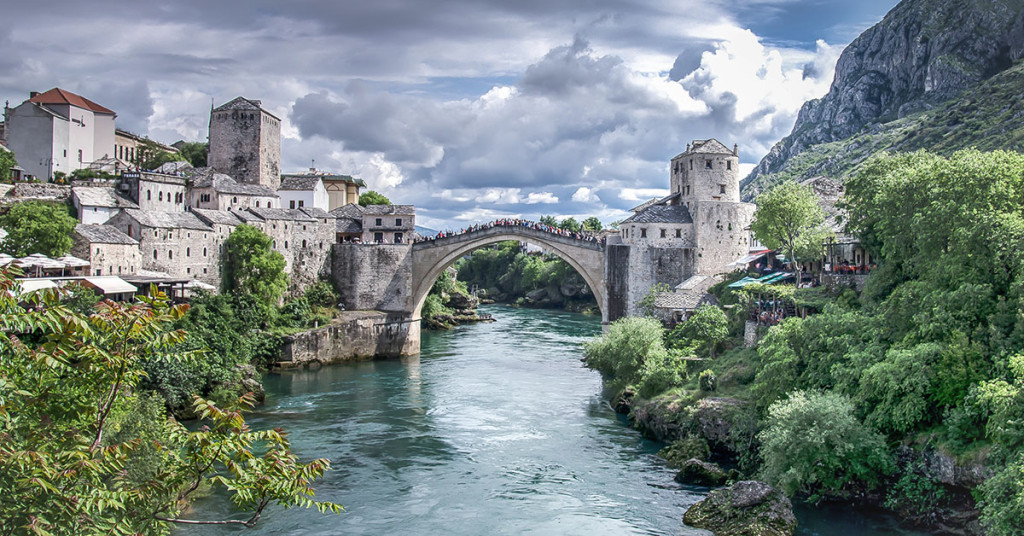 Why you should pay a visit to Bosnia and Herzegovina
Emir's tips
Beer. We have good beer, and a lot of delicious meat specialities that go along with it. Also sightseeing, beautiful countryside, beautiful people, etcetera
The IT industry. It is one of the industries here which have a significant increase every year and there are more and more people opting for this industry professionally, which means more IT companies, more startups, more projects, investors, etc. There is definitely an opportunity for business here and you can find people of great quality and skills. And in most cases, they will not say no to a beer.
Ervin's tips
Sarajevo. As in many cities in our country, you will note that you are on the border between east and west. It is really interesting to see that a mosque, a church and a synagogue have been built a few hundred meters from each other. Soon, you will also note that people of different religions and ethnicities are living together in Bosnia and Herzegovina, supporting and helping each other.
Mostar. This beautiful town is situated in the southern part of our country. Many of its buildings and bridges were built at the time of the Ottoman Empire. In a European setting, they are unique.
Beautiful countryside, especially our rivers. My personal favorite is the river Una where I have spent countless hours.